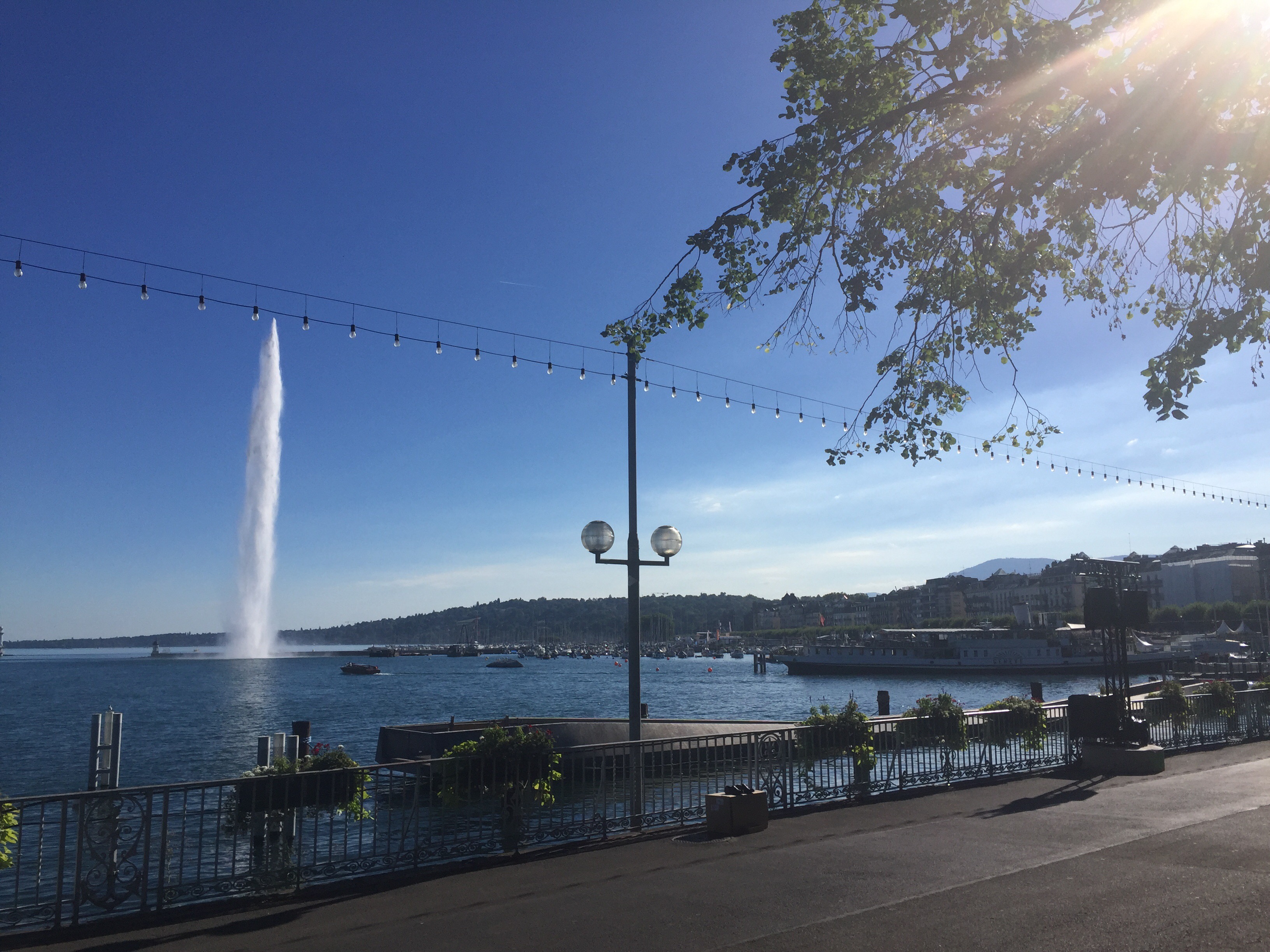 I came to Geneva early one morning with the sole intention of leaving it as soon as possible, but a fatal error when booking my rental car (not changing 7 PM to 7 AM) combined with a healthy dose of inflexibility on the side of the car rental company left me unexpectedly with an entire day here.
Truth be told, I didn't mind (much). I had only ever been once before when I was here to work for the UN (as you do), and hadn't had the time to see any other part of this most quintessentially Swiss town.
The first thing that struck me is how hushed it all was. Granted, as I had flown in on a red eye, the city was probably even quieter than normal as I made my way on foot towards the old town, but still… the famous water sprout on the lake seemed to be the only thing moving, sending cascades of water 140 metres in the air. It was already hot however, and being dressed top to toe in black didn't help – it might make you look cool, but I was anything but.
And so I slunk through the alleys of the old town, lurching from shade to shade like Frankenstein's monster, who was "born" here when Mary Shelley outdid her friends in a literary contest, Decameron-style.
Geneva is famously the birthplace of another monstrosity, too (in the eyes of the Catholic church, at least!). 2017 marks the 500th anniversary of the Reformation, and having been at the centre of that revolution the city celebrates with numerous plaques and statues, none more impressive than the stalinesque monument at the foot of the old town, where the four founders stand in vigil, looking like a cross between dour dwarves from Tolkien and Usama Bin Ladin. Given that their ideas directly contributed to wars, civil wars, famine and the deaths of millions one has to wonder what great thinkers will be venerated five hundred years from now…
Back in the here and now, modern Geneva proves to be exactly as stereotypically Swiss as can be hoped for: banks line the streets (presumably with impressive vaults hidden underneath them), and luxury items are on sale everywhere – foremost amongst them watches, ranging in price from small car to McMansion – and the army's favourite deterrent makes regular apparances.
So far, so Swiss. Less famous is perhaps the fact that Swiss society is incredibly liberal – it's here people can go to take their own lives in special death clinics, after all – and so it shouldn't perhaps come as a surprise that there are stores selling cannabis and prostitutes plying their services quite openly, as if it were nothing more special than, say, cheese fondue (I'm not saying cheese fondue can't play a part, too, but you would probably have to pay extra…).
I have my sights on a different Swiss speciality, however, of a most particular kind: CERN.
The European Centre for Nuclear Research is arguably the most successful example of humankind coming together for the greater good and advancement of the race. It's here, or rather one hundred metres below the ground, that the Large Hadron Collider is – well, at this point I admit defeat; there is no way I can explain how the particle accelerator is used. They crash particles into each other at near the speed of light and sift through the debris to infer the existence of various infinitesimally small building blocks of the universe. That's the best I can do.
But it's here, all 27 kilometres of it, running circles around everything else in terms of coolness (quite literally, as the magnets used to speed the particles on their way are cooled to just a couple of degrees above absolute zero in order to create superconductivity), and I spend a couple of very happy hours taking in the exhibitions and enhancing my ignorance.
And so it was that I left Switzerland with an even better impression than I had before. It's easy to see how the combination of the lake and the surrounding mountains lures people here – unfortunately that is also why the market has seen fit to ensure that it that it's out of reach of most mortals. As I left I tested this using the Big Mac index: roughly twice the price of all other European nations. Wanna live in Geneva? Win the lottery, or – at least – bring a packed lunch.