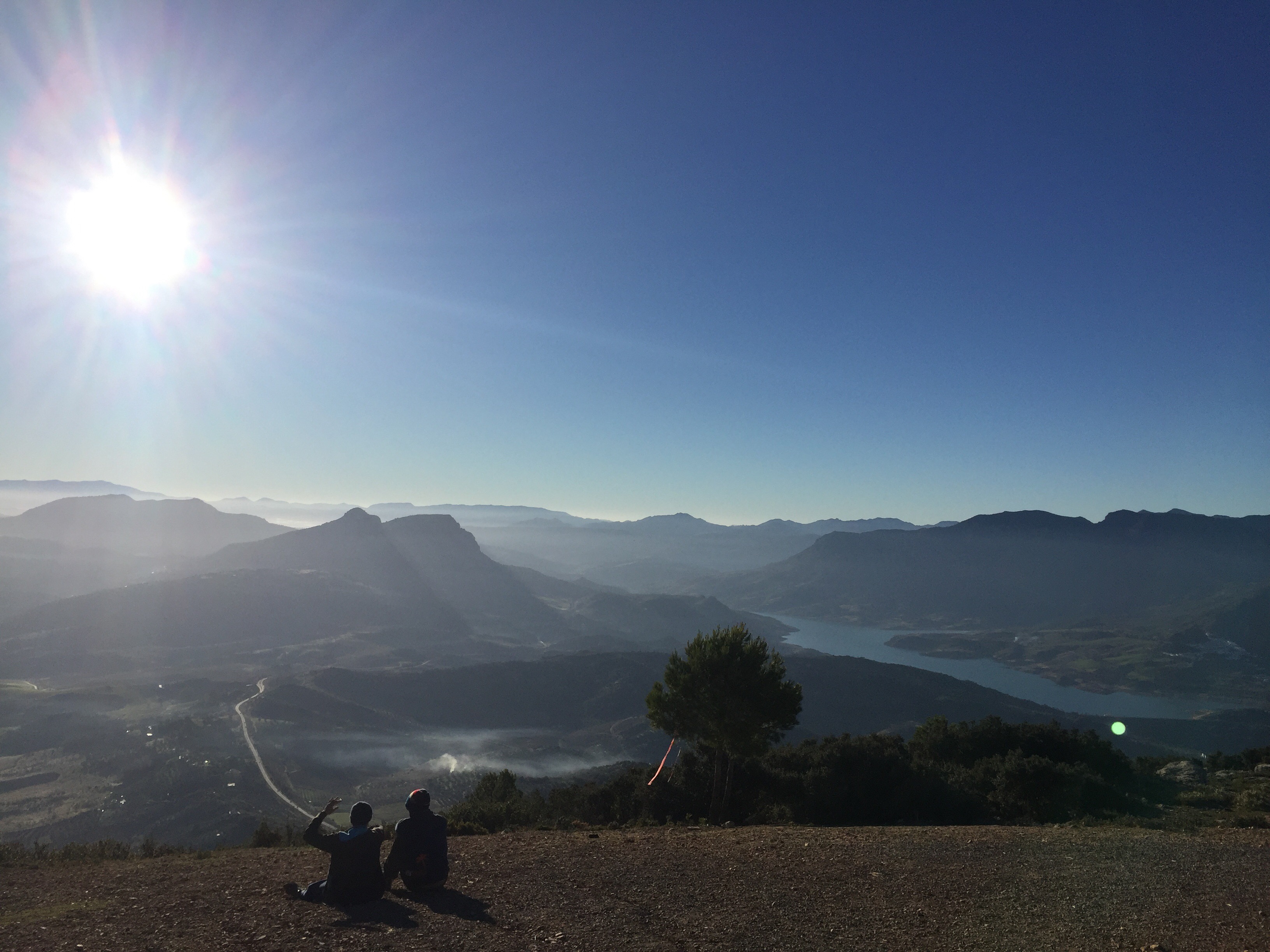 I'm about to throw myself off a mountain.
It's at times like this you question your life choices. It's a beautiful day, and I've got everything to live for. Why would I do this?
Leonardo da Vinci knew. "Once you have tasted flight, you will forever walk the earth with your eyes turned skyward, for there you have been, and there you will always long to return." Astonishingly ahead of his time as always, he wrote that 300 years before man actually "tasted flight". As for me personally, it was as recently as three months ago in a tandem flight in the alps of Bavaria, and so for my November challenge I have signed up for an Elementary Pilot paragliding course.
There's eight of us on the course: four firemen from Wales, two ex-army Englishmen, a somewhat elderly Scottish academic and myself under the tutelage of two laid-back but incredibly professional para-bums: Ross and Jack from FlySpain.
We're ferried from Malaga to a quaint mountain-side village in Andalusia. This is archetypical Spanish countryside: weatherworn men and women in black knitwear in front of whitewashed houses, rolling fields, olive groves and oak trees under which Ferdinand the bull and his friends still graze. Algodonales looks much the same as it probably has since the time of the Moors (the neighbouring village of Zahara still lies beneath the ruins of a Moorish castle), but the main draw here is the hilly landscape, clear blue skies and warm sun, which provides paragliders with ideal flying conditions.
Ross and Jack have us starting off learning to handle our equipment on a dried-out lake, as flat as can be, and then we move on to a little hill (60 metres or so) in the middle of plowed fields, where we progress to mini-flights, practicing take-off and landing under relatively safe conditions.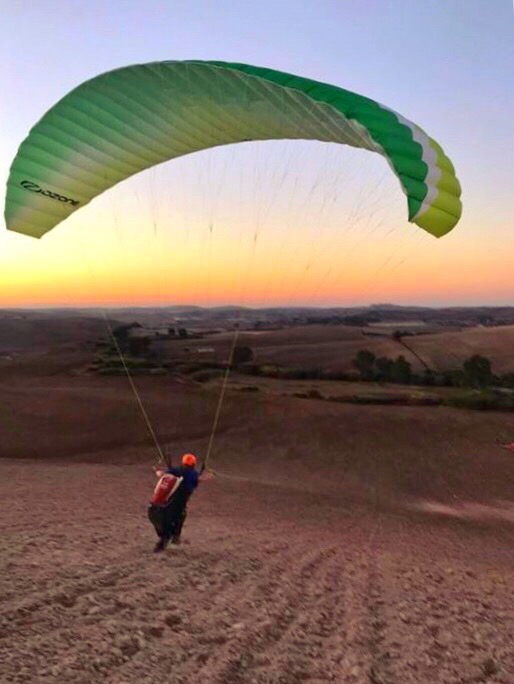 ​​I say relatively, because before you get the hang of it, the wing is an unruly thing, and almost every one of us fails to take off at some point, with either canopies collapsing on top of their pilots, or people being dragged off across the field by the force of the breeze, or tumbling over when landing. (I'm lucky in that all my take-offs and landings are successful, but on the other hand I tear a muscle in my butt during one launch, which just about incapacitated me…!) We make really good progress though, working as a team, so the basic course is finished after a mere two and a half days*.
Which brings us to this moment.
We've driven up the mountain for the better part of an hour, and now I'm stood here, at the edge of a launch site a good 700 metres above Algodonales, looking down at a ravine full of craggy rocks and thorny shrubs. Time to nut up or shut up. Get the take-off wrong here and you're in a world of pain, or worse.
Ross lays the canopy out behind me, and I try to focus on the various stances: Gay Crucified Jesus (hands out to your sides in a relaxed manner, allowing you to hold the brakes and the A-lines, letting the latter slide out as you move on to) Funky Chicken (long strides forward doubled over with your arms straight back to allow the canopy to rise above you in order to achieve lift-off, when you can happily move to) French Shrug (hands up by your ears, holding the reigns lightly, ready to steer your wing.).
Radio check. "You'll only hear me say 'runrunrun' or 'stopstopstop'", Ross says. Hardly reassuring. Legs shaking with adrenaline. Stomach a tight knot of fear and excitement. Last equipment check, glance at the wind sock, and I'm off! I go from starting position to striding forward as best I can with my tenderised rump, only to find my left hand entangled in the lines. Fuck! I pull it out and continue – too far gone now to stop.
I'm up in the air before I know it, sitting back in the harness as the ground falls away underneath me. The village is far, far below, the air and the sun in my face, the landscape never ending. I round the mountain, check my bearings and fly, fly, fly.
It feels like an eternity, but it only lasts ten minutes before the radio crackles and Jack, who has already landed, comes over the airwaves to guide me. I descend, landing neatly next to a dilapidated farm house, but in my mind I'm still up there. The adrenaline wears off, but the endorphins remain. I have tasted flight.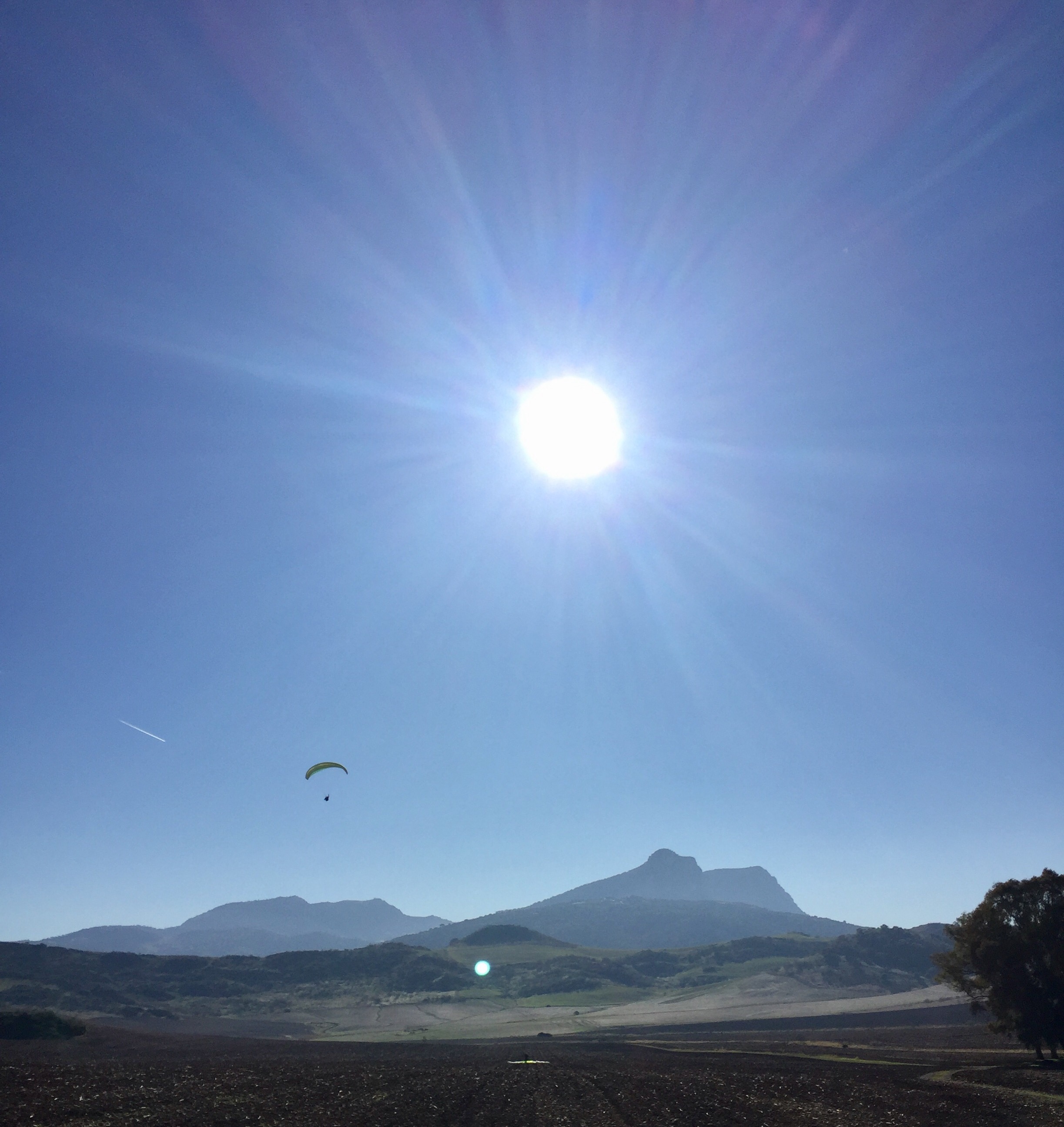 We do a couple of more flights like that, gaining confidence with each one (in spite of zero wind on the very last flight, which sees me botching my perfect track record with a treetop-mowing start and ignominiously toppled landing) and then the week is over. As we return to Algodonales for the last time, a solo paraglider is riding a thermal high in the sky above the village, circling it together with a lone vulture, both of them rising effortlessly through the air. The next level beckons.
——
* It's hard work. We're on a conveyor belt system, so once you've landed and bunched up your shute, you have to trundle back up the hill on foot, slipping in the furrows, making it back on top in time only for a quick drink before it's time to suit up again. The heat, physical excercise and adrenaline all take their toll, so I'm stumbling to bed before ten most nights, after a quick trip to the local tapas bar.