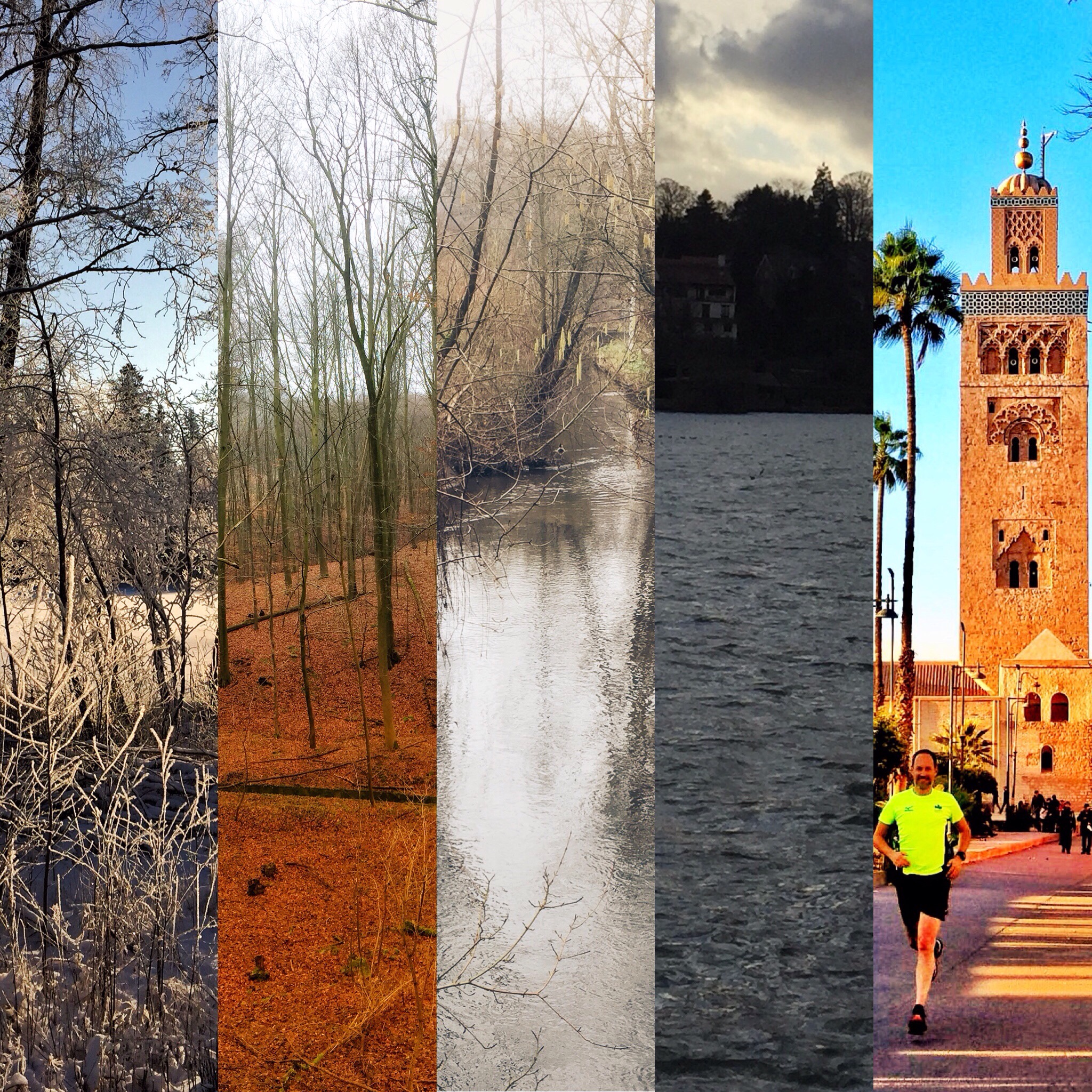 For my first challenge this year I signed up for a runstreak in January. The concept is straightforward: you run every day for as long a streak of days as you can muster. The notion had intrigued me for a while, but two factors made me decide to give it a go; first my need to do rehab to recover from my paragliding injury, and second the fact that Paceonearth initiated a Facebook group for people who wanted to give it a try for a month.
The rules are simple: you have to get changed into running gear (so having to run to catch the bus doesn't count), and you have to run for at least twenty consecutive minutes per day (so ten minutes in the morning and ten in the afternoon won't do, and neither will running forty minutes one day and nothing the next). And so run I did.
You would think that it would be easy to find twenty minutes per day, especially if you are used to making space for workouts, but an increased workload and a couple of unexpected trips to Sweden presented certain logistical challenges – often runs were squeezed in between shopping groceries and picking up kids from their activities, and on travel days I sometimes had to run at ungodly hours to fit them in at all (squatting at night in a forest because I'd been doubled up in an airplane all day and the run had initiated hitherto suppressed and therefore quite urgent bowel movements? Memorable, as was the realisation that I had no toilet paper…). Running in a crowded Marrakesh (with a woman!) presented its own challenges.
I'm not entirely convinced that it is good for you to run every single day. I certainly felt stiffer and slower than when I was mixing running with biking and swimming and lifting weights. In fact my one gripe is that it steals too much time away from those activities. Of course, my decreased capacity could also be the result of my injury.
But still I ran. As did the other participants. The one aspect of this challenge that I hadn't anticipated was how much I would come to appreciate the fellowship I felt with the other runners, none of which I ever met in real life (with the exception of my sister). There were 700 initially, and although many fell by the wayside (some unfortunate souls quite literally!), we shared laughs (an informal competition for worst-looking running gear was an assault on the senses), gripes, hardships, cheered each other on, and ran in all kinds of conditions – neither rain nor storm nor gloom of night may stop these couriers, as the postal services once put it. In a sense it is not unlike an ultra – you do run for a month, after all, you just take reaaalllly long potty breaks 😋 – in that the main obstacle is in your brain, telling you it can't be done, and in that respect (much like in an ultra) your fellow co-runners can provide invaluable help with just a word of encouragement at the right time.
So the question is, will I continue? I've done 40 days now (OK, so I jump started a little…), and I am tempted to go on, but I honestly think it is better to mix things up a little, so I will change my runstreak to a cardio streak instead – I will continue to run OR bike twenty minutes or more every day. On top of that I will add an iron streak – lifting weights (including body weight) for the same amount of time per day. Bring on February!