Oktober 2015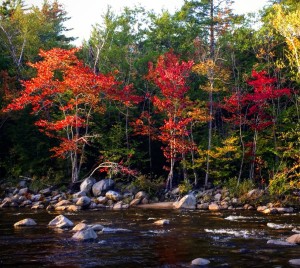 Ever since I read Last of the Mohicans as a boy I have wanted to experience New England's wilderness. This is where Hawkeye Leatherstockings fought the sly fox Magua to the death, and Uncas and Cora Munro were the first believably star-crossed lovers I ever encountered in literature, so this was clearly a happening place, my ten-year-old self reckoned.
Fast forward 25 years and I'm still inspired by literature, only now it's Bill Bryson and A Walk In the Woods that have me pining for the Appalachian Trail, that runs along the Eastern seaboard for 3,500km from Georgia to Maine. His story about hiking along the AT – and in particular his description of the White mountains in New Hampshire and the 100-mile-wilderness in Maine – was what got me interested in hiking in the first place, so there are several reasons I'm giddy as a schoolboy as my native guide (gotta have a native guide when exploring the unknown) guns the car down Kankamagus Highway into the Pemegawasset Wilderness, where the White Mountains are.
We've come not only for to hike, but to leaf peep as well. This is an actual thing, as the autumnal colours of these forests are so spectacular that tourists come to just marvel at the russet reds and fiery oranges of the sugar maples and moosewoods and beeches and birches and rowans and other deciduous trees. Even though I know what to expect I run out of synonyms for "gorgeous" long before we've even reached our base camp, a friend's skiing lodge. The colours are those of a Japanese garden lit up by fire.
There's a natural order of things, however. Down on the valley floor the deciduous trees reign supreme, but as you set off up the mountain on ever more bouldery paths, conifers begin to appear and grow in number until the leafy trees give up altogether, and you are left with something best described as an army of undead Christmas trees, the tortured, gnarled branches of which reach for you, wanting to snag your clothes. Then these, too, give up the ghost and you enter truly alpine heights, where nothing but bonsai shrubs cling to what little topsoil remains.
Having read Bryson's accounts I'm a little apprehensive about the difficulty level of some of these trails – New Hampshire styles itself "the Granite State", and the paths certainly bear witness to this; they are essentially just boulders that you have to hop, skip and clamber over and around, up and down. My faith in my own Pochahontas is absolute however, or rather it was until about an hour or so into the first day's hiking when she suddenly stopped and swore. I naturally asked what was the matter, and got the undying answer "my foot is stuck underneath my other foot".*
Yet in spite of this we manage admirably. The first three days follow the same pattern. We set out at ungodly hours (at least jet lag helps you Get Up Very Early), hike from different trailheads up ravines and past waterfalls unto ledges and crests where we eat our packed lunches and marvel at the panoramas unfolding before us.
Visibility is nothing short of incredible; from atop Franconia ridge (which saw us bag three 4,000-footers in an afternoon) and Frankenstein cliffs (sadly not named after the Doctor and his monster but after a local painter) you can see over one hundred miles, and what you see is nature putting on a spectacle to rival any I have ever seen. And in spite of it being peak season we encounter no more than a handful of other hikers every day, one or two birds of prey high in the sky, and the ever present silver grey and red squirrels, whose territorial challenges follow us along the paths.
Make no mistake, however: the wildlife of these deep woods is impressive. Black bears roam the land, as do coyotes, bobcats and possibly even wolves. Less deadly animals abound as well, such as deer, jackrabbits and wild turkeys, which we would see peacefully pecking their way along the roadside. On one hike we set off on a trail that passed several beaver ponds, where moose sometimes come to eat and drink. The guidebook says to listen out for frogs at these ponds, the sounds of which are "remarkably like someone plunking the strings of a banjo".
We didn't hear any frogs, but that passage got me thinking about the movie Deliverance, and the decidedly backward (and banjo-plunking) people the city-dwelling protagonists encounter. This place, too, has its share of colourful locals who go by hillbilly names such as Zeke, Cletus and Bubba, and they certainly do live off of tourists, but only strictly financially speaking – cannibalism no longer being in vogue.
Outdoor tourism is huge here all year around, so it's not surprising that the locals are keen to reap the rewards. For our day of rock climbing we engage a specialist guide named Zebulon Jakub, who takes people rock climbing in summer, ice climbing in winter and kite boarding and para-gliding all year around. He is clearly a latter-day incarnation of Hawkeye. Add to that the fact that he looked like a young Zeb Macahan, and you see how the border between fiction and reality blurs up here.
The climbing itself is brilliant: just hard enough to be a real challenge without completely crushing you. We hike up to Square Ledge, facing Mount Washington, and as the sun climbs in the sky so we climb up the sheer cliff, thirty vertical, vertigo-ous metres straight up to the summit, from which we then rappel down to do other routes, including a chimney-like crack that sported a long dead bird as a special treat near the top. I surprise myself by how strong I feel – clearly all the workouts are starting to pay off – and lunch has rarely tasted as good; adrenaline and vistas make for excellent condiments, it seems.
It's a perfect holiday, in short, if only too short. Luckily, on our last day the weather changes completely, and as we set off for Maine and its lobster shacks and outlet malls, the rain is pouring down, turning bouldery trails into babbling brooks and crests and ledges into slippery death traps, so it seems ordained that this adventure should be at an end. I have ticked off two or three more items on my bucket list in a matter of days – it simply doesn't get much better than that.
——–
*Credit where credit is due, however. She personally diverted a hurricane that was threatening to cancel the whole endeavour, sped up the leaf ageing process by sheer willpower, and held torrential downpours at bay that would otherwise have made hiking utterly impossible. On top of that she also introduced me to the marvels of local cuisine, to wit: cider donuts, hoagies, dark chocolate peanut buttercups, pumpkin bread, blueberry syrup and republican pasta(!) – made with no taxes whatsoever.